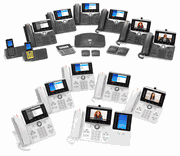 Cisco has an IP Phone for your every organizational need
Cisco IP Phones empower your business with a new collaboration experience that connects you with the right people, with the right information at the right time, so you can accelerate team performance and maximize your business results.
In today's 24x7 global economy, your business must meet the needs of a wide range of users who can have different communications styles and preferences for how they conduct their work. Today's workforce is more geographically dispersed, spanning different time zones, which enable collaboration beyond traditional work hours. Use of conferencing is growing exponentially. Virtual team spaces, with the ability to escalate member exchanges to calling within the space, are becoming increasingly important to efficiently and effectively collaborate. Cisco IP Phones support these advanced forms of collaboration.
---